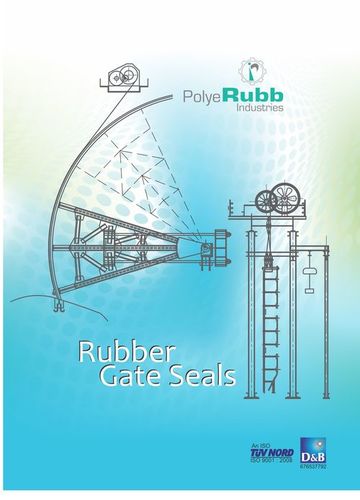 Product Description
MANUFACTURING PROCESS
Rubber Gate seals are manufactured by two manufacturing processes viz., extrusion and moulding.
EXTRUSION:
Extrusion is the cheapest method of manufacture of rubber gate seals. Expensive moulds are not required. However,
close tolerances are difficult to maintain. Maintaining uniform cross section throughout the length of the gate seal is
difficult to achieve thereby, non uniform pre‐compression of the gate seals is observed. Cladded gate seals cannot be
manufactured by this process.
MOULDING:
Rubber gate seals are manufactured in moulds whereby, a uniform cross section through out the length of the gate seal
is attained. Close tolerances can be achieved by this process. There is better control over the quality and size of the
gate seal.
SHAPES
Rubber Gate seals are available in the widest range of shapes. Since every Irrigation / Hydroelectric Project has its own
design requirements, if the shape required does not fall in the existing range, gate seals of special sections as per the
customer s specifications are also manufactured.

*Flat Type ‐ – Rectangular
– Half round at one end
– Wedge Type
*`P /`J /Musical Note Type* – Solid Bulb
– Hollow Bulb
* Double Stem Type* – Solid Bulb
– Hollow Bulb
* Double Bulb Type* – Solid Bulb
– Hollow Bulb
* `L /`Z Type Seals
* Special Section Seals
- 1Corner Seals
‐ 2 Dimensional
‐ 3 Dimensional
GATE SEAL SPECIFICATIONS
AS PER INDIAN STANDARDS IS : 11855 : 1986
RUBBER:
Hardness : Shore `A : 65 ± 5
Tensile Strength : N/mm2 : 14.5
Elongation at Break : % : 450
Water Absorption : % by wt. : < 10%
Oxygen Ageing : : > 80% of value of Tensile strength before ageing

RUBBER ‐ METAL ADHESION TEST:
Tensile Strength : N/cm : 176
RUBBER ‐ FLUOROCARBON FILM ADHESION TEST:
Tensile Strength : N/cm : 54
INTERNATIONAL STANDARDS ASTM RUBBER:
Hardness : Shore `A : 65 ± 5
Tensile Strength : lb/in2 : 3000
Elongation at Break : % : 450
minimum Water Absorption : % by wt. : < 5
Compression set : % : 30 maximum
Oxygen Ageing : % : > 80% of value of Tensile strength before ageing

FLUOROCARBON FILM:
Tensile Strength : psi : 2000
Elongation at Break : % : 250 minimum

RUBBER ‐ METAL ADHESION TEST:
Tensile Strength : lb/inch width : 100

RUBBER ‐ FLUOROCARBON FILM ADHESION TEST:
Tensile Strength : lb/inch width : 30